To respond to requests from companies and current clients who sincerely want to ensure their leadership is inclusive and develop a corporate culture throughout the entire organization that both accepts and celebrates differences, we launched Above & Beyond Academy.
Our Academy provides several key workshops and online adaptive learning tools regarding inclusive leadership and culture to ensure that all employees, from the entry level to the very top, is on the same page and that everyone is more aware of their biases. In addition, the courses look at the often-unwritten rules of teams and organizations.
The Academy offers tailored workshops worldwide which can be combined with individual online adaptive learning courses for both executive management teams and any other level of the organization. Leading global companies deem bias training necessary, because they have identified diversity as one of their key business drivers.
The Above & Beyond Academy diversity courses focus on:
• Inclusive Leadership and Bias
• Inclusive Culture and Bias
• Respect at Work
Successful companies will need to focus on attracting, retaining and promoting genders equally, as well as diversity in the broader sense. In other words, they must be better at bringing the entire talent pool in play.
The Above & Beyond Academy is founded on the Nordic mindset: meaning the idea that real behavioural change within an organization, group or community necessitates a collective effort. Bias and doubt must be addressed and confronted together to truly succeed. The model aims to support and transform the entire community and bring new skills, awareness and knowledge, in order to not just remain stuck with what is familiar and safe.
The Journey Towards an Inclusive Culture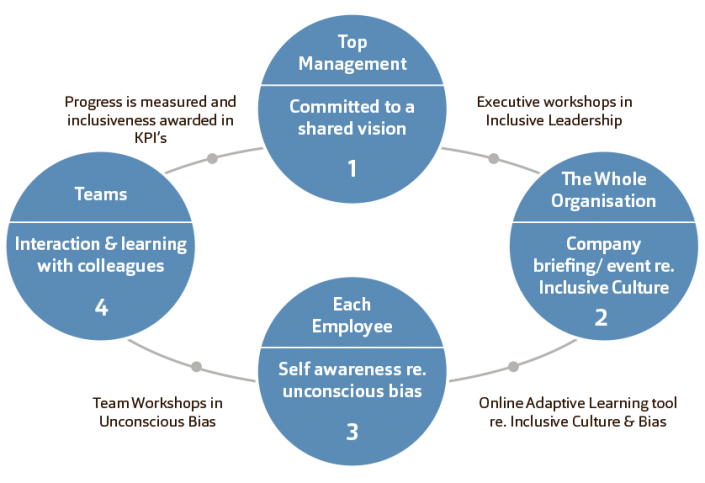 GLOBAL PARTNERSHIP WITH AREA9
Cutting-edge online adaptive learning tools


Above & Beyond has a close global partnership with Area9 Lyceum. The group develops personalized, adaptive learning tools. In 2014, part of Area9 was acquired by McGraw-Hill Education. The deal was estimated to be worth as much as €130 million.
In January 2018, the Danish Growth Fund made a record-breaking €25 million investment in their new company entity with the technology and learning tools: Area9 Lyceum.
The adaptive learning technology personalises the learning process to meet each learner's needs; it takes into account what you already know and hence begins with the competencies you need to improve. Our tools provide the knowledge and insights to be conscious of the blind spots and thereby instigate behavioural change.
In addition, HR will receive feedback on the level of knowledge, the areas of improvement and the learning ability on both the level of the individual and the company. This provides a unique way for HR to assess where best to utilize further resources to organise e.g. workshops promoting the desired inclusive culture.

Developing and maintaining an inclusive culture means addressing the unconscious biases that have been found to adversely affect hiring and selection processes. The question of tackling unconscious bias has come up regularly at our HR workshops, with more and more organizations looking for ways to overcome it. One way to do this is through bias training.
When developing our tools and workshops, it was essential that they included significant components on unconscious bias, both for leaders and for the wider organization. We know that unconscious biases tend to arise because our brains have a strong desire to make quick and final decisions to eradicate possible doubt,
insecurity or ambiguity that might make us unsafe, but this is incompatible with the conscientious decision-making that should govern hiring practices.
As such, we have developed our tools to define and raise awareness about biases, and the ways they can manifest themselves. By becoming aware of ingrained biases, and working to diminish them, companies can develop a culture that is more curious, open to new ideas, and most importantly, inclusive.
An important part of our tools is that they both look at self-understanding and the unwritten rules of the wider team/organization. By analyzing the typical cultural values that exist, bringing them to light and putting them into words, it will be easier to recognize whether the current culture and behaviour is inclusive, and begin to address any changes that need to take place.